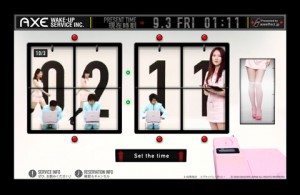 In a previous post I had shared two myths about initiative driven brand growth:
Myth 1: I can't grow my business without line extensions – WRONG – as demonstrated by the US Perrier case.
Myth 2: I can't attract new users to my brand without line extensions – WRONG again as evidenced by the White Gold campaign for the CMPB.
Here are two more "growth" myths and two examples that show how the right idea can help grow the core without any investment in new product initiatives: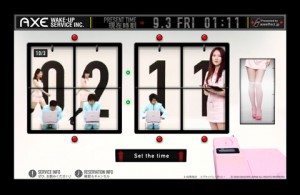 Myth 3: I can't increase brand usage without product initiatives.
Axe in Japan was faced with a difficult situation. Although young japanese are advanced groomers they use deodorant 50% less often than their European counterparts. What made the challenge even bigger was the fact that the very low usage was not due to the wrong pricing or communication strategy,  but  to a physiological factor – japanese sweat a lot less than we do.  As a result deodorants was not a top of mind category for japanese teenagers (photo: www.adme.ru)
So launching a new chocolate perfumed variant would not help Axe solve its problem. What the brand needed to do, was to break into the morning routine of young japanese adults and make spraying Axe part of their very entrenched morning behaviour. Put shortly: the brand would only succeed if it managed to achieve a behavioral change. To be successful, the agency needed to dig deeper into understanding of what the first minutes in the the day of a young Japanese guy looked like. And here is what they discovered: most Japanese guys use their mobile phone as an alarm clock (handset penetration among the target group was 100%). This channel insight became the cornerstone of the creative idea: the Axe Wake-up service – an idea routed in the media consumption pattern of the audience:
The campaign also used TV commercials to create awareness for the new Wake-Up service:
After Axe kicked of the campaign purchase repeat rate was up 27%-points and the brand achieved it's highest score ever for beeing "Cool/Trendy/Stylish".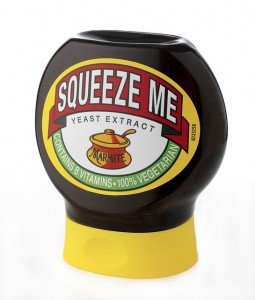 Myth 4: Brand-lead communication is not suited to launching new product initiatives.
Too often Brand and Marketing Managers ask their agencies to develop a "line extension"-centric campaign which focuses on the new product features (including a line-extension specific claim) with little attention being given to continue promoting the purpose that is at the core of the brand  (photo: Flickr.com – Liz Hunt).
Marmite did not make that mistake when it launched its plastic Squeezy jar in 2006. Since families are Marmite's main target audience the launch campaign needed to reach out to them. This was done by using a nostalgic TV spot starring Paddington bear:
And although the Padington commercial looked very differenc to the previous Marmite commercials, the core of the idea remained the same and the very strong line "you either love it or you hate it" was kept intact.  In addition to TV, Marmite also reached out to its lovers via a virtual Padington's kitchen where visitors could swap ideas for Marmite sandwiches. Over 1,225 recipes were submitted over five weeks. Last but not least, the distinctive online and print campaign that was run alongside TV, encouraged people to squeeze Marmite onto toast and share the outcome as part of an online gallery. The print ad below is a great example of a brand-lead campaign that still manages to communicate the product news in a very convincing and engaging way while staying true to the core of the brand: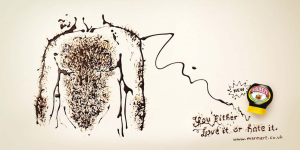 And despite the fact that Marmite was discussed in a very controversial manner in the Marmite Facebook page, Squeezy now contributes 11% of Marmite's total sales despite commanding a 30% price premium.