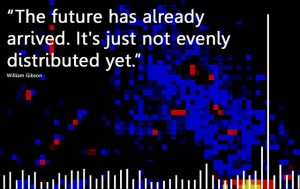 A few weeks ago I was invited to contribute to the Wharton "Future of Advertising" program. (Foto: source Flickr.com – courtesy of Will Lion)
This initiative from the Wharton Business School gathers thought leaders and innovators from the industry and agency side and invites them to share their thoughts about two questions:
1. What could/should advertising look like in 2020?
2. What should we do now for that future?
The platform where all the contributions can be found and the press release (WFoA Ad2020 Project Goes Public) went live a few days ago and you can find my entry here.
In my paper I am challenging 5 beliefs that in my view can prevent many agencies from reinventing themselves in the future:
Belief 1: Work starts when the client's briefing is on the table.
Belief 2: Communication comes in "campaigns".
Belief 3: Analyzing complex data is not one of our core competences.
Belief 4: Our industry is still capable of attracting the best creative minds or talents.
Belief 5: The more integrated we are, the more efficient we become.
Enjoy the reading and as always I'm looking forward to some challenging thoughts!