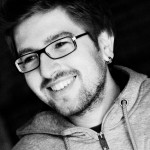 I have spent 12 of my 28 years in advertising. And then I've got the chance to personally check how it feels to create advertising in Germany. So I made my way as an "intern" from 1st of July to 30th of September in GREY Dusseldorf.
My acquaintance with the office began at the reception — the Golden Lion looked at me and said: "Yeah, guy, we are doing cool things here." Then I was given a small tour through the office, and finally we arrived at the top floor — it's Digital Department or my home for the next 3 months.
It seemed to me that now I'll see magicians who are «cooking» the future — a mixture of Facebook, applications and websites because Digital is presented exactly so at all Digital workshops and festivals. But instead I met 20 pairs of bright and intelligent eyes, peering into pixels on their huge screens, fingers writing and drawing something. There is no magic. It's just real enthusiasm and the desire to do the excellent work.
3 months passed very quickly. I managed to take part in several pitches, tested the air freshener for cars, thought up a few fun ideas. During all this time I haven't seen any magic wands, any magic spells or potions. I haven't seen magicians and sorcerers. I saw the most ordinary people who know their business by 200 percent. They laughed, joked, drank coffee and wrote something on the boards. They were just doing their job.
I have even managed to forget that first feeling of "Magic". And just the day before my departure, I was shown the latest top-secret development — a singing garden. You should just touch a flower by your hand and it begins to sound. "It's just Magic" — I thought.  You will reply "Oh no, we just love what we do."
Andrew Ushakov is Art Director at GREY Kiew.