In the beginning of May I attended the biggest Social Media Conference in Germany in Berlin called re:publica 2012. There I took part in several sessions about blogging for GREY and listened to the participants and their experiences. One topic was about food blogging in Germany and how it strengthened the culture of eating or even not. And because at GREY we have a special interest in food, e.g. our quarterly Food Trends or our analysis about Good Mood Food (only in German available) I thought to ask somebody some questions about food who loves eating and cooking and is overall blogging about this and of course her experiences. So the circle closes because Nicole "Nicky" Stich was one of the participants at the food blogger session at re:publica. She is blogging at deliciousdays.com since a long long time in comparison to many others. Gorgeous: The Time Magazine called her website 2006 as one of the 50 coolest. She lives in the capital of Bavaria, the popular southern country of Germany… popular for its "Schweinebraten" and its famous "Weissbier"

Today I have the pleasure to interview her here on the GREY Blog.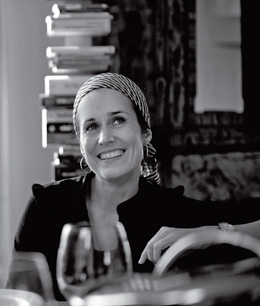 (Source: madame.de by Oliver Seidel)
Johannes: Hi Nicky, how are you doing? How is the weather in Munich? And of course I have to ask you this: What did you eat today in the morning?

Nicky: Fine, thank you. Well, the sun is shining, so there's no reason to not be happy… My breakfast, let's see: Today we went to Cafe Solo, a small coffee bar just across the street, run by our friend Kristin. I had a cortado and shared a buttered pretzel with my better half, Oliver.
Johannes: Come on, let`s talk about re:publica 2012 and your impressions. I was really surprised when I was there because I met a lot of people I know and even more I didn`t know before and had really good talks with them. Also the sessions were quite better than two times before I went to re:publica. Did you feel the same?
Nicky: I'm sure it has been evolving over the years, but since it was my very first time, I cannot make any intelligent comparisons, but to say I loved it! The people, the location, the vibe, the talks, everything.
Johannes: After all what do you think about the food blogger panel at what you participated at the re:publica 2012? Did you know all the other food blogger, e.g. Inés Guttiérez (Vorspeisenplatte), Katharina Höhnk (Valentinas Kochbuch), Hande Leimer (Vinoroma), Stevan Paul (Nutriculinary), Sebastian Dickhaut (Rettet das Mittagessen), Vijay Sapre (Editor Effilee-Magazine), Thomas C. Bräuhäuser (365 days with ART.Flavour) und Hendrick Haase (Wurstsack) before? I guess…
Nicky: Most of them, yes. I've been following most of their blogs and some of them (Hande, Sebastian, Inés) have become real life friends right from the early years of my blog. Quite surprisingly, I enjoyed the food blogger panel, as I'm typically not too fond of talking in front of large audiences

But again, the overall re:publica spirit and vibe made it a pleasure.
Johannes: You see I go further into the direction of what you feel about food. What is so amazing about it that you decided before 7 years !!! to begin with blogging at deliciousdays? Just give our readers some insights. What was the reason? I mean you didn't know that you will be able once to live from food-writing, blogging and photography at all…
Nicky: At that time I wasn't very happy with my day job and felt urge for another creative outlet. I happened to discover a few US food blogs and was immediately hooked, could there be others who were as crazy about food and cooking as I was?! Blogging about my own cooking experiences and favorite recipes seemed like the logical consequence. So I started designing and Oliver coded the WordPress based blog. At that time I didn't have a clue if I would still be blogging in 3 months time, but here we are more than 7 years later…
Johannes: Would you say that in Germany a lot of food blogger like you can do it as a job so that the can live from it or can you count them on one hand?
Nicky: If you look at it closely, blogging per se is not the activity that pays all of my bills

But the cookbooks I write do and the reputation I built over the years allows me to be engaged in various projects, both here in Germany and on an international level. I wouldn't limit the success one can achieve with blogging to a specific country, if you are really passionate about what you do, it will pay off in the long run. Obviously reach, audiences and patience play an important role.
Johannes: I remember that at the re:publica 2012 Panel somebody stated that always when he arrives in the US friends asking him how much money he makes with the Blog. The answer is always: nothing. On the opposite side it seems the food blogger in the US have no problem to get money for their job? Why this huge difference?
Nicky: The "nothing" answer I gave dates back to 2006

I get the impression, that most US bloggers don't perceive advertising on blogs generally as a bad thing – a view much more common on this side of the pond. Of course it is important to be extremely sensitive about which advertising partner and content you choose: case in point, we've been having advertising on our blog for more than five years now and have neither received one single complaint by a reader nor has our readership decreased. If you can make your passion/hobby pay (part of) your bills, what's not to like about that? On the other hand I declined some very well paid ads other bloggers ran on their blogs, just because I didn't feel it matched our site and philosophy.
Johannes: How would describe the food blogging scene in Germany in comparison to other fields of blogging? Last year I had a interview with Anna Frost (only in german available), a famous german fashion blogger girl who said the fashion blogger scene in Germany got the biggest solidarity.
Nicky: Tough one. I don't think I'd be the right person to comment on this one, since I only read a handful of non-food German blogs, which cover rather diverging subjects.
Johannes: At this time we can see something like a "Renaissance" of picture and video sharing in communication (link only in german available) especially in the Social Web what is affected by upcoming networks and apps like Instagram, Pinterest, Viddy or Cinemagram. What do you think what will it change in your work? As far as I know you`re writing at this time a cook book and you love photography next to your passion of blogging…
Nicky: Right this moment I am working on my third cookbook, giving me a bit of an online break. That said, as much as I like to discover new online trends, most of these new services don't offer real benefits to what I do.
Johannes: Have you collected some experiences with these services like Instagram & Co.?
Nicky: Somewhat. I can't help, but my inner curiosity and drive to discover potentially awesome things on the net make me most definitely check them out. I rarely get wowed anymore though and since my days only have 24 hours, I don't want to spend even more time online than I already do. I don't feel the need to connect through countless social media networks, even if that means I deliberately choose not to be present on hyped platforms like Instagram and Pinterest to gain new blog readers from there. Our blog and Twitter are the only two platforms I keep "feeding".
Johannes: What's about new apps around the food topic like Foodspotting? Which ones do you use and why? Which one is the best which you would recommend to our readers?
Nicky: Similar answer, I do love to check out new apps, but do they make it into my daily routine? Hardly ever. Foodspotting has a neat concept, yet I don't have an account, I just browse through our neighborhood ventures from time to time or when traveling. Besides, I regularly use "Buy Me a Pie" for (food) shopping, "Wine Notes" to organize our wines and "Kitchen Pro" for amount conversions.
Johannes: Have you heard from GREY before this interview, e.g. because of our analysis?
Nicky: Having worked in advertising for more than ten years, of course I know GREY

Johannes: Last question Nicky: What kind of advice would you give somebody who thinks that he got a passion for food like you and wants to begin blogging?
Nicky: We have written a "Do's and Don'ts" about blogging, which is a good starting point to answer most questions for beginners. The more important question would be, why do you want to start blogging? If it's just for the love of food and sharing, I'd say what are you waiting for. If you are aiming for a book deal (I get emails about that constantly), I'd say you should have started years ago. The quality level of food blogging (writing, photography) has evolved tremendously, the number of great food blogs has literally exploded and almost every niche is taken.
Johannes: Thank you so much Nicky for having time for this interview for the GREY Blog. I appreciated it! So let`s stay in contact and if you are in in Düsseldorf, the next time, you are invited for a fresh and smoothy Espresso Macchiato! Have a good time and take care on you!
Nicky: Thank you for having me, Johannes