A year ago I attended a Conference in Düsseldorf called "The World after Advertising". I met there one of the Top-Speakers, Oscar Ugaz, for a small talk together with Martin Meyer-Gossner. At this time, the Spaniard was Digital Business Manager at the famous football-club Real Madrid C.F. and responsible for the strategies in the areas around  eCommerce, Social Media or online Video Business. I asked to do a brief Interview but he answered that I would have to ask the Headquarter in Madrid before… Nowadays Oscar is back to Phantasia Wunderman an interactive practice in which he is involved since 2000.  He is dedicated to lead digital projects for some big brands both in Europe and Latin America.  Today I have the pleasure to ask Oscar some questions about his work, his opinions and experiences about the developments in the digital sphere.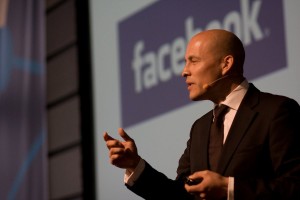 (Source: sportsnetworker.com, 22.02.2012)
Johannes: Dear Oscar, great to have you on the GREY Blog to ask you some questions. How are you doing? Where are you right now? Somewhere in Spain, in the US at a Conference or at some big football club stadium ;)?
Oscar: Thanks for having me. I'm still based in Madrid but I'm traveling back and forth between Europe, the States and Latin America. We are lucky to have clients in both sides of the ocean and we are working with them in the design and implementation of their digital business projects. Many of those involve the activation of rights in the sports arena so I keep my relationship with this sector.  I also have the fortune to be invited to business schools and conferences to talk about digital. Those are great opportunities because you exchange ideas and receive feedback and great points of view.
Johannes: How would you describe your daily business when you worked at Real Madrid? I think our readers are eager to read this first cause they know Casillas, Ronaldo, Özil, Khedira… or at least know that Real is one of the leading Football Clubs in the World…
Oscar: Real Madrid is a sports organization but also a very well developed business. In that sense it is like any other company. You have projects, objectives and results that need to be reach. Most of the daily work is based on identify the best partners for each of the projects and work closely with them. Not only to create a business plan and deploy a product or service but also to reinforce the brand and be in line with the interests of the fans. All this involve due diligence work, design and review of contracts, strategic brainstorming and coordination with several areas of the club like communication or IT. The experience at Real Madrid was an interesting one because when I was hired, the main objectives was to improve the business side of the official websites and implement the ecommerce business. At the end we don't only to do that but also develop a whole array of social media assets and digital video properties with business models attached to them. This was not in the original plan but it results of the daily development of the strategy. In the meantime we also put in place a great team of people and partners and most important, we evangelize about these new digital concepts that where assumed by some traditional areas of the organization. It was a very complete an interesting project.
Johannes: We both met on Twitter, Oscar. Why do you use the 140 Characters?
Oscar: I use Twitter to put ideas in discussion and I think is a great tool to do that. I'm not comfortable with having discussions within because it´s too limited to develop a compelling debate. But is a very good option to put concepts over the table, identify people interested in them and move  to a more adequate environment to have a deeper conversation . As you say, we meet in Twitter, we identify issues in common and now we are having this interview.  Twitter is also a good place to find information. There is too much clutter but the use of hash tags or other conventions can be very helpful. Lists can also be a great opportunity to aggregate content, search through it and share what is relevant with others.
Johannes: How would you describe the influence of Twitter and its upcoming six years ago for the way we communicate today?
Oscar: The problem with Twitter is the same with other social media destinations. There is too much focus on private life and nonsense.  In the long term, users get tired and overwhelmed. I think that there are still many people that keep going with the initial question of Twitter "What you are doing" or "what is happening". You need to balance those with others like "What you are thinking?", "What you want to discuss about?" and "What's your opinion?". I'm not saying that Twitter can't be use for entertainment, but some balance is needed to keep the relevancy and health of the platform. Twitter is nowadays a big whistleblower to get aware of news and events and is very efficient and renowned for doing that. But I think its great value is when you used it to share opinions and establish conversations and discussion.
Johannes: What other Social Media do you use regularly and why?
Oscar: I used LinkedIn most of the time. It´s focus in business and is a great resource to find contacts, relevant information and projects. The groups, events and discussions have proved to be very useful in my case. I try to be very selective there. I prefer the groups that have some kind of editorial management to take care of the content. I understand that there must be a component of commercial efforts in each group. But when it´s transforms into a market when everyone is shouting offers I use to leave. For personal matters I have personal accounts in Facebook, Foursquare, Instagram etc but I try to focus only in real life friends. I have "John Smith´s" accounts in each platform and share them with our group of corporate testers to analyze new projects and do "diehard" usage in each case.
Johannes: What is a must-have today for somebody working in the digital space? Strategic knowledge, being user of a variety of Social Media Channels or to be used with conceptual and design works? Or all of it?
Oscar: The three of them. If you are only a high end user of social media channels you are going to miss the big picture. Maybe you can be a good community manager, but the bad news is that this position is going to be dilute as the concept of social / digital is digested by marketing. If you are a community manager and don't have an strategic thinking oriented to business results, you are going to end in a "help desk" type of work reviewing comments and giving answers that others are going to define. You must understand the new concepts and platforms (social, mobile, localization) but you also need an strategic thinking to identify which of those platforms are going to really help the business and how. That means value and the most liquid the value the best. You need to define KPI, ways to measure and set objectives to define is you do it well or miss the target and need to refocus. Finally, if you don't have story telling capacity and the ability to conceptualize and design for the final users, you are going to lose at the end. Business knowledge & strategy is useless with a bad deployment.
Johannes: Oscar, last time we had a more or less spontaneous call during what we discussed Pinterest – take a look at our Profile there ;). Some call it the new "Star at Social Media heaven". What do you think about it? How do we have to understand the reason why it gets more and more relevant for individuals and also for brands?
Oscar: Brands still take the wrong approach of the old TV model: If there is people / viewers lets go and try to sell whatever we can. For some reasons that don't depends of the platform itself, Pinterest has aggregate a very specific demographic (women) with some particular tastes and interest (art, decoration, fashion, gastronomy) and with a specific tone & manner (aesthetic and stylish images). It seems like an effective driver of ecommerce traffic and I think this is based in their attractive and glossy displays and the frictionless of the user interface. Sales conversions will happen if the ecommerce destination shares the same characteristics. The problem is that brands are taking a very short-sighted approach. I put the example of a football cub that called me to ask my opinion about selling tickets on Pinterest. Are tickets an attractive and aesthetic product itself? The demographic of potential purchasers is aligned with the demographic of the platform? Digital marketing is about adapt your brand and products to a platform and sometimes you need to reconsider your deployment because your products or services are not aligned. Pinterest is a great vertical that can lose its attractiveness, an potential ecommerce "mojo", because of the invasion of content and proposals that have nothing to do whit what people is doing and sharing there.
Johannes: What do you think about the assumption that due to the pressure (traffic, popularity, focus on photos & videos) from Pinterest Facebook had to react to make its photo-sharing-experience for its users better than before and so the acquired Instagram? Or is the reason for this the fact that Facebook needs more comfort in the mobile area, while it has to move urgently?
Oscar: One issue here is what is referred to data. Instagram is going to provide Facebook with a vast amount of great photographic material with several data attached to it. This will aggregate a new edge to the Social Graph and will improve the behavioral and highly targeted advertising solution that is the core of the business. If Facebook don't touch Instagram and only used it to push the content to their own platforms, the advertising solution for Facebook mobile apps is the main task. But I think that the core issue is another. There is an important trend of content sharing based on interests and with less focus on  private life and self-absorbed mumbling. Pinterest and Instagram are an expression of that trend. On the other hand, Facebook is getting more fans but less engagement. Some reports are talking about Facebook Fatigue.  You can see this in football clubs and other brand pages. Millions of fans but engagement rates of around 3%. Facebook are too much things but not many of these are relevant. Users are showing an increasing interest in some vertical approaches and the importance of more carefully "curated" content at the end of the day. I think that the Instagram deal have a big component of this trend.
Johannes: So would you agree that brand communications lacked a long time about visual communications or at least it will become more important than before?
Oscar: Isn't only about visual or non visual. It's about remarkable content. People are overwhelmed by irrelevancy and low quality nonsense. The next trend will be the "defriending" of people and pages who tweet and post rubbish. Before you jump to social media and start shooting your first post or tweet, you need a great story that can take people by the neck, excited them and keep their attention and love. That's far more difficult than understand how the new social media and digital platforms operate.
Johannes: Last question Oscar: What kind of advice would you give brands for their Social Media Engagement today at mid of April 2012?
Oscar: First you need a relevant history about your product or service. Something to attract and keep people engaged. That's marketing basics but managers are simply missing it. You don't need millions of fans. You need a core group that loves you and will talk about you. If they are millions great, but is irrelevant to have people that only clicks on a "Follow" or "Like" button because it's easy  but really don't care about you. You discover this by the bitter way when you try to share something to those suppose fans or followers and receive irrelevant feedback. Strategy and clear and honest measurement is a must and also help you to not get distracted by the new shiny platforms. Not all the platforms are for all brands. Not all brand suits digital or social media. Avoid take your decisions because everyone is talking about it or jumping inside the wagon. You need to see how these digital platforms help your business. Is there's not a clear connection, think again and avoid waste time and money. Finally, keep in mind that in most cases the issue about digital and social media isn't about your brand talking with people. It`s about people talking about your brand.
Johannes: Thank you so much Oscar for having time for this interview for the GREY Blog. I appreciated it! So let`s stay in contact and if you are in Germany, perhaps in Düsseldorf, the next time, you are invited for a fresh and smoothy Espresso Macchiato! Have a good time and take care on you!
Oscar: Same to you.